Campus ID Card Photo Help
Auxiliary Services home »
Campus ID Card FAQs »
UCI Faculty/Staff
The online photo upload system is available for students, staff, and faculty. Guidelines on how to submit a photo for approval are below. If you have any questions, please contact cardservices@uci.edu.
---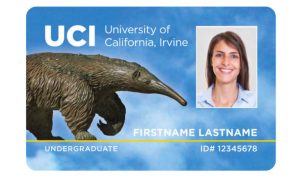 UCI Students
The UCI Campus ID Card gives Anteaters access to essential and important services like meal plans, online academic resources, library services and more.
To be prepared for the academic year and avoid delays receiving your new ID card, upload your photo and supporting identification as soon as possible, as the photo approval process does take some time.
---
Before uploading your photo
Before beginning the photo upload process, get prepared by taking these two steps:
1st – Watch this! Then review the requirements and guidelines below.
2nd – Have your photo selection and a photo or scan of your government-issued ID ready to upload. Government ID files will be deleted when card is completed.
How to upload your photo
1. Go to MyPhotoID.uci.edu and log in using your UCInetID.
2. Upload your photo according to the requirements guidelines and tutorial below.
3. When processing is complete, review your photo. You have the opportunity to select another photo at this time. When satisfied, select Submit.
4. Next, submit a scan or photo of your government-issued ID as a supporting document. Government-issued ID examples: passport, driver license or a state-issued ID 
5. Allow at least 1-2 weeks for your request to be processed. 
Photo guidelines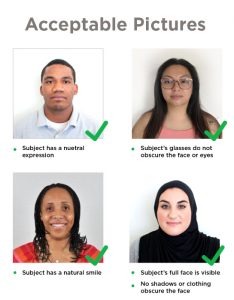 Your ID photo must meet the following requirements:
Must be a color digital jpg or png photo, without filters or any digital alteration. Photocopies or scans are not acceptable.
Subject must directly face the camera with face visible.
Head, eyes and shoulders must be level.
Head should be centered in the middle of the photo.

 

Lighting must be even overall.
Photo should be cropped slightly above head and just below theshoulders.

 

One person in photo only.
Background should be uniform, plain white or off‐white and without shadows or objects.
Eyes should be open, visible and looking straight at the camera.
Hair must not obscure eyes or any parts of the face.No sunglasses, hats or head coverings. Exceptions are for religious or medical purposes with a signed statement (uploaded along with supporting document in one file).
Use a neutral expression or smiling face. Exaggerated expressions are not acceptable.
After submitting your photos, you must submit a valid government‐issued ID as a support document containing a photo and your full legal name.

 

There will be a place to upload this on the next page after you upload your ID Photo.

Supporting documents must include a recent photo of yourself and your full legal name. Any of the following pieces of government-issued identification are acceptable:

Passport photo page / Passport Card
Driver License
State issued identification card
Permanent Resident Card
Trusted Traveler Card
US Armed Services identification card

If you do not possess any of these documents, a recent School Photo ID such as a High School Photo ID as a supporting document is also acceptable.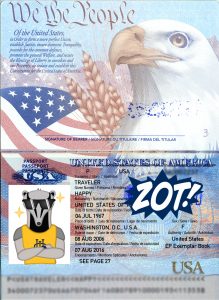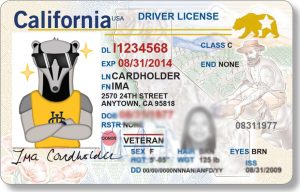 If you encounter any issues during this process or have any questions, please email Campus Card Services at cardservices@uci.edu