Vice Chancellor, Student Affairs
Welcome to Student Affairs
from Interim Vice Chancellor Edgar J. Dormitorio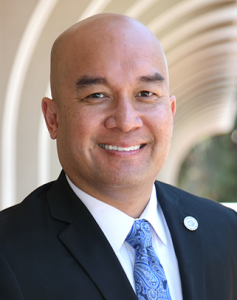 A
s the interim vice 
chancellor for Student Affairs, it is my role – along with my Student Affairs colleagues
 – 
to advocate and champion the 
growth 
of students. 
We support the whole student by making sure that their life outside of the classroom complements their academic endeavors. This means providing enriching opportunities that affirm
 their experiences.
Our efforts are guided by student learning outcomes within the following domains:
Civic & Community Engagement
Leadership Development
Diversity & Global Consciousness
Professional & Administrative Skills
Personal Responsibility
Every student who engages in one of our programs 
is expected to increase their personal knowledge, develop a new skill, or learn something new about themselves. 
We also want students to understand how much their engagement – whether through clubs, government and leadership, events or a host of other opportunities – 
not only helps them to grow but
strengthens who we are as a 
community.
The 
UCI 
campus is an exciting and dynamic place where students will engage in 
experiences that will be inspirational, life changing, and 
may also challenge their current thinking. 
Students, you have an open invitation to visit me during the Conversation Hours I have throughout the year. I am 
looking forward to meeting you and learning about your experiences.
Edgar J. Dormitorio
Interim Vice Chancellor, Student Affairs
Contact the Vice Chancellor's Office »
Conversation Hours
Students are invited to visit with Interim Vice Chancellor Dormitorio to share an idea, say hello or discuss a concern. No appointment necessary. Conversation hours will be held on location at the centers listed below.
Spring Quarter 2019
Week 4
Tues.   April 23    3:30-5 p.m.
LBGT Resource Center
Week 6
Thur.   May 9   3:30-5 p.m.
Cross-Cultural Center, Ring Room
Week 10
Tues.   June 4   1-2:30 p.m.
405 Aldrich Hall