Vice Chancellor, Student Affairs
Welcome to Student Affairs
from Vice Chancellor Willie L. Banks Jr., Ph.D.
Biography »
21 Questions with VC Willie L. Banks »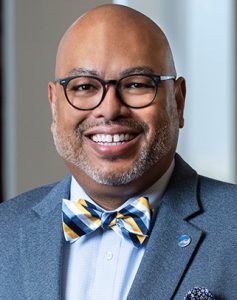 Students,
Welcome to UCI and the Anteater family. The Division of Student Affairs is committed to developing the whole student by ensuring your life outside of the classroom complements your academic endeavors. This means providing enriching opportunities that affirm your experiences. Our efforts are guided by student learning outcomes within the following domains:
Civic & Community Engagement
Leadership Development
Diversity & Global Consciousness
Professional & Administrative Skills
Personal Responsibility
Every student who engages in one of our programs is expected to increase their personal knowledge, develop a new skill, or learn something new about themselves. We also want students to understand how much their engagement – whether through clubs, government and leadership, events or a host of other opportunities – not only helps them to grow but strengthens who we are as a community. The UCI campus is an exciting and dynamic place where you will engage in experiences that will be inspirational, life changing, and may also challenge your current thinking.
Students, I am looking forward to meeting you and learning about your experiences.